The machine-ability of the anodized mirror aluminum
The machine-ability of the

anodized mirror aluminum



As we all know, the anodized mirror aluminum has a lot of advantages, and the machine-ability is one of its advantages. we talk about the anodized mirror aluminum now.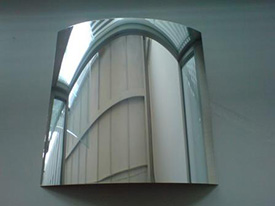 The anodized mirror aluminum plate has the advantages of high brightness and high gloss, so the anodized mirror aluminum is often used in the construction curtain wall and ceiling and other application fields.
 
Looks like a high strength aluminum plate, but when it encounters various processing machinery of professional, the veneer of anodized mirror aluminum simple image will soon be reversed, it doesn't need a lot of artificial processing, do not need again special surface treatment, more do not need to spend too much time, the machine-ability of anodized mirror aluminum  is very powerful. The uniform assembly line operation, a 30*30mm mold by a simple pressure, a 30*30 mm of ceiling aluminum gusset has been formed. A 8 square meter toilet, through about 20 pieces of aluminum gusset to splice each other, a high brightness and high grade toilet ceiling of the toilet is completed.Later, it does not need you too much to take care of, don't worry about water vapor of water mark will adsorb on top, the anodized mirror aluminum plate is not easy to absorb dust, and no fingerprint after touch. The gold anodized mirror aluminum plate is selected by some luxury brands, which can be applied to the exterior wall of the building to fully display the high end of the brand.
 
Mirror corrugated aluminum plate is also more and more popular with owners, because of its special shape, through the different Angle of high reflectivity mirror can make curtain wall radiate the light of different, in the form of a corrugated can also indirectly increase the comprehensive strength of aluminum plate.
---